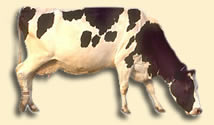 Many dairy feedlots dot the Little Cottonwood River Watershed (feedlot map), and the animal wastes associated with these facilities present an environmental threat to the river.
Providing technical and financial assistance for improved feedlot and milk house management is one way the Little Cottonwood River Watershed Project works with landowners to deal with these concerns.
Managing an open feedlot next to a steep ravine was a challenge for a farmer expanding his dairy. Through the watershed project and local Natural Resources Conservation Service and Soil and Water Conservation District offices, the farmer was able to install a state-of-the-art wastewater treatment system (flocculation) to treat milk house wastes before they are discharged into the river.
The flocculation system is a simple two-step process. First, wastewater is pumped into a tank, where a flocculent is added to concentrate the wastes into a sludge that can be separated from the liquids. Then, the sludge is disposed of with the manure or used as a soil amendment. Second, the liquid portion is sent to an underground infiltration field, much like a septic system, for final treatment.
Water quality tests before and after the project showed that 87-95 percent of phosphorus and sediments were removed from the waste stream, and the pH was neutralized. This innovative system will be a valuable demonstration tool for other dairy farmers in the region.
The cost of the new system was shared between the farmer and the Environmental Quality Incentives Program (EQIP) of the U.S. Department of Agriculture. The farmer used resources available through the watershed's Clean Water Partnership to help relocate the feedlot. Next