TILE REINVENTORY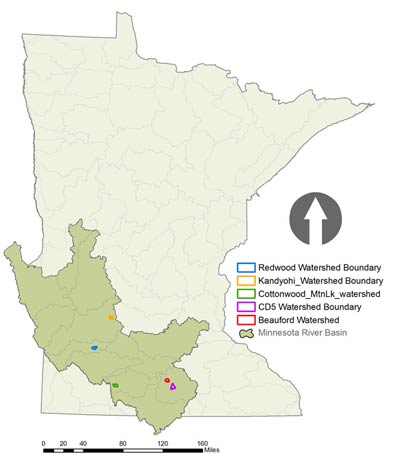 MRAP and original 1991 re-inventory w/methods
In 1991, as part of the Minnesota River Assessment Project, 32 minor watersheds in the Minnesota River Basin were selected for detailed land use inventories. Local Soil and Water Conservation Districts (SWCD) conducted surveys with landowners in each of these minor watersheds. As part of the surveys, landowners identified drainage features, such as tile, open intakes and side ditch inlets.

1991 inventory corrections and differences made
potential errors/under estimating
Digitizing errors, landowner participation, watershed boundary errors (using original), landowners draining into and out of the natural watershed boundaries.

Methodology to 2010 tile reinventory process
Drainage infrastructure has changed significantly in the past 18 years. The Water Resources Center (WRC) at Minnesota State University, Mankato is partnering with local SWCDs to re-inventory a minimum of five of these minor watersheds in late 2009 and early 2010. The inventory process will allow for determining changes in drainage features since 1991. This information will prove valuable for monitoring and modeling trends in the Minnesota River Basin, most notably to provide statistical analysis on how drainage features have increased.


RESPONSIBILITIES ( MSU-WRC/SWCD )

MSU-WRC: Provided local Soil and Water Conservation District (SWCD) with the original Minnesota River Assessment Project (MRAP) minor watershed and '91 tile inventory shapefile.

SWCD: Used MRAP shapefile boundary to pull landowner information out of a county parcel map.
Watershed boundaries were inconsistent between original MRAP boundaries and current Minnesota Department of Natural Resources boundaries. For consistency, the original MRAP watershed boundaries were used to conduct the re-inventory.
For fields that overlapped the watershed boundary, the entire field in the inventory was used.

The SWCD compiled a list of names and illustrated land ownership/operator name in a GIS map/layer shapefile.
This list was given to the MSU-WRC so that the number of landowner surveys could be determined.

MSU WRC: Once landowner / operator information was received from the SWCD, the WRC created a 160 acre grid throughout the watershed for landowners to draw in their tile infrastructure.

SWCD: The SWCD reviewed 1991 MRAP inventory against 1991 aerial photographs available from LMIC.
Digitized changes, including any additions and/or deletions as necessary to the 1991 tile inventory using GIS software and provided the updated shapefile to MSU-WRC.

Contacted landowners to set up available meeting times.
If landowner was unavailable, the SWCD left a message if possible and attempted to contact the landowner a second or third time.
If landowner declined participation, the SWCD reviewed current aerial photographs, (2005, 2006, 2008) from LMIC and looked for notable drainage features that could be detected (if any), these features were then accurately drawn on the map.
Landowner meetings:

IMPORTANT: Since the Water Resources Center was responsible for digitizing the tile lines, all maps were reviewed before parting with the landowner to ensure that an outside party would be able to simply look over and accurately digitize or reference where the lines, side inlets and open intakes are located.
All landowners were provided a survey for them to complete and return prior to the end of the meeting.
If available, a copy of their tile installation designs was made.

Different types of open intakes were marked on the map with the respective symbols below:
Once all interviews had been conducted, all data was compiled and submitted to the Water Resources Center.

MSU WRC:
The Water Resources Center digitized and referenced all maps and provided up to date stats on the increase in tile drainage features over the past 19 years. The SWCD will receive the updated shapefile once completed.