What is a CWP ?

The Crystal Loon Mills Clean
Water Partnership ( CWP ) is a
locally managed project that
addresses water quality issues in
three Southern Minnesota lakes:
Crystal, Loon, and Mills Lakes.



Priority issues include reducing
phosphorus, decreasing harmful algal
bloom intensity and frequency, and
educating citizens on lake related
environmental concerns. Click here to
read more.


Project Updates...
CLEAN WATER PARTNERSHIP DRAWS TO A CLOSE After almost three years of working with watershed residents to help clean up their local lakes, the Crystal Loon Mills Clean Water Partnership is drawing to a close.  The project, which began in May 2007 and focused on improving water quality and reducing nuisance algae blooms on Crystal Lake, will be finished this December.  Click here to read more.
Become a Citizen Lake Monitor! Now that the Clean Water Partnership is coming to a close, volunteers are needed to help continue to monitor water quality in Crystal, Loon, and Mills Lakes.  The MPCA's Citizen Lake Monitoring Program (CLMP) requires only minimal volunteer time, yet provides essential information needed to maintain and improve Minnesota's water resources.  Visit our water quality page for more info!

For more upcoming events visit:
Minnesota River Calendar
http://mrbdc.mnsu.edu/calendar/
index.html
Your Partners for Water Quality
Improvement in the Crystal Lake
Watershed

Lake Crystal, Minnesota

"High Quality water is more than the dream of the conservationists, more than a political slogan; high quality water, in the right quantity at the right place at the right time, is essential to health, recreation, and economic growth."
- Richard Bangs and Christian Kallen, Rivergods, 1985
....................................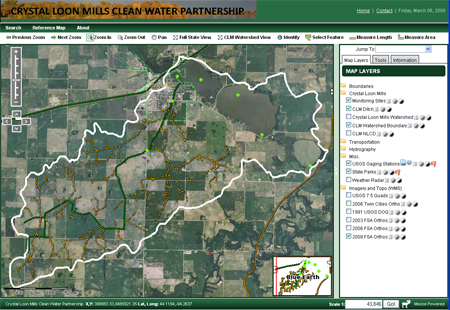 Click the above image for interactive map.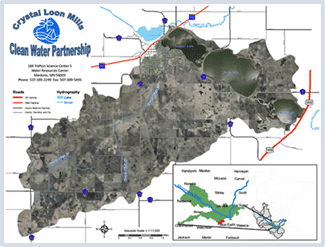 click here for larger view

Go to our water quality page for other maps.
Photo Credits:
Photos Courtesy of:
MN Dept. of Natural Resources
Scott Kudelka, WRC
CLM Photo Contest Participants
City of Maplewood, MN
University of MN Extension Service
USDA Natural Resources Conservation Service